From time to time we have orchids for sale in our unit, these could be from a commercial grower or divisions of our own orchids. Please feel free to call if you want to know what orchids we have for sale at any given time. We do not post orchids out. Check out our Facebook page for details of Pop Up Orchid Sales that are held at our unit where we invite commercial growers to sell their orchids at various times during the year, or sign up to our newsletter and you will be emailed with details when a sale is planned.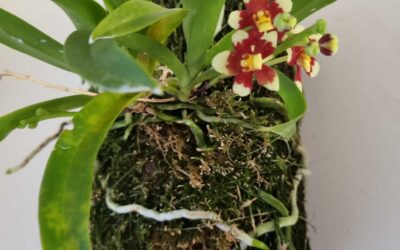 Epiphytic orchids, those that live on trees, can easily adapt to growing on various types of mounting material. Many orchids do just fine growing in pots, but mounting orchids can allow them to grow healthier root systems and thrive for years longer than they...
read more


Orchid Den went out of their way to help mum with advice for my recently departed dad's orchids. They mean a lot to me so I'm really pleased you can help until I can drive the 1000km to collect some. Mum feels a lot more confident looking after them too. Also nice to see dad's work so much appreciated by someone in the know. Really grateful for your generous time and care, thank you.


Thank you. My Alternative Mix and containers arrived well packed. Can't wait to repot my orchid. Great website with so many lovely orchids for sale. Is there anything that you don't supply for orchid growers? I just wish that I lived closer so that I could attend one of your workshops.